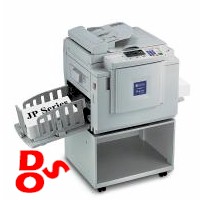 A Printer-Duplicator, also known as a
digital duplicator
, is a printing technology designed for high-volume print jobs (20 copies or more). Printer-Duplicators can provide a reliable and cost efficient alternative to toner-based copiers or offset printing equipment.
The Printer-Duplicator begins by digitally scanning the original and then transferring it to a master template though a thermal imaging process. Then the master is automatically wrapped around a print cylinder, where the ink is drawn through the perforations in the master creating the print.
Printer-Duplicators are known for very high speed in comparison to other printing methods. They are able to produce anywhere from 60 to 180 prints per minute, while maintaining a per page cost that can be as low as 0.01p per page. They are also considered very reliable because they do not use heat or copier components, such as toner.
Communicate your ideas for less than the cost of a black & white copier. Ricoh's award-winning digital duplicators offer a variety of features and publishing conveniences including colour capabilities and computer connectivity. Ricoh digital duplicators offer an impressive level of service to businesses, schools, or any organizations where long print runs are routine.

Ricoh DX3240 / DX3440
General Features
Print Paper Size Maximum: 275x395mm
Print Paper Size Minimum: 70x148mm
Print Paper Weight 47-210gsm
Colour printing By replacing optional drum
Printing Speed: 80,100,130 sheets/min (3 steps)
Image mode: Tint Mode, Letter Mode, Photo Mode, Letter/Photo auto seperation
Pixel density: 300 dpi, (Fine Quality 300x400dpi)
Dimensions (W x D X H): With platen cover 1244x676x633mm, With ADF 1244x676x686mm
Weight: With platen cover 70.5kg, With ADF 75kg